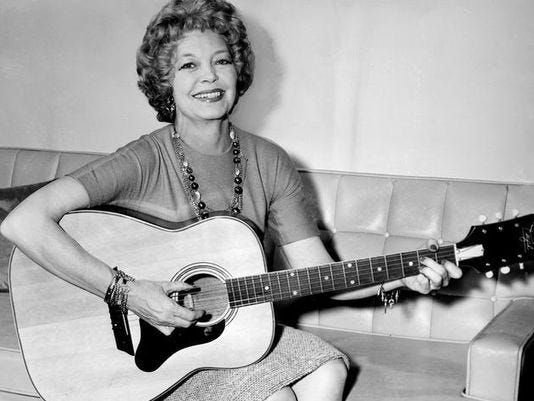 Hello again everyone and Happy Mothers' Day to all of the mothers out there!
Being that this post is being written on Mother's Day, I wanted to talk about one of the most influential female songwriters in the history of music... Cindy Walker.
This lady has written songs that have been performed by everyone from Bob Wills to Michael Buble. She has over 300 songs to her name and, has been inducted into the Country Music Hall of Fame and, the Texas Heritage Songwriters Hall of Fame. Walker has written songs that have stood the test of time and singers have made albums dedicated to only her music . She was quite an incredible talent and her songs have been recorded for over 50 years. This artist has made a major impact on the music world and will continue to for years to come.
Cindy Walker was born in Mart, Texas(east of Waco), on July 20, 1918. From an early age Cindy had a fondness for writing and poetry, and began writing songs as a teenager. In the early 1940's while on a business trip with her parents, Cindy got a chance to audition one of her songs called "Lone Star Trail," for Bing Crosby. He recorded the song and took it #23 on the Billboard Charts. Now, since Bing Crosby is the person known for doing "Lone Star Trail", here is a version that might not be as well known. Here is Gene Autry.
Now having Bing Crosby record one of your songs in those days was like having George Strait record one of your songs today. So, with that on her songwriting resume, she approached Bob Wills and Tommy Duncan about them recording her songs as well. She had written a song called "Cherokee Maiden," especially for Wills, and he recorded it in 1941. This song has been recorded many times by many artists, and made it to #1 on the Billboard Charts in 1976 for Merle Haggard. There is a band here in Oklahoma called the Cherokee Maidens and they do a really cool version of this song. Here are the Cherokee Maidens.
After Bob Wills recorded Cherokee Maiden, he recorded more of her songs and sang Ms. Walker's first top 10 hit in 1944, "You're from Texas."  In 1999 Asleep at the Wheel made an album called "Ride with Bob: A Tribute to Bob Wills and The Texas Playboys," and played this song with Tracy Byrd. It was a very good version and definitely deserves a listen.
At this point Cindy Walker had made a name for herself and many people were in love with her songs. Ernest Tubb even recorded one of her songs in 1949 called" Warm Red Wine" and it went to #47 on the Billboard Country Charts. This song has been recorded many times, but my favorite version is by Hank Thompson. 
One of Cindy's more famous tunes was called "Distant Drums." It was recorded by Jim Reeves in 1957 and became a huge international hit in 1966, after his death. Here is "Distant Drums."
In 1962, Roy Orbison recorded "Dream Baby(How Long Must I Dream)," and took it all the way to #1 in the U.S. and Britain. Here is Roy Orbison with the Royal Philharmonic Orchestra. 
In 1964, Walker's song "In the Misty Moonlight" was recorded by Jerry Wallace, and then again in 1967 by Dean Martin. Wallace's cover went to #19 on the Billboard Top 100 and Martin's went to #1 on the Easy Listening Charts. Martin's also went to  #46 on the Billboard Hot 100. Here is Dean Martin singing "In the Misty Moonlight."
Just to show the diversity of the songs that this artist wrote, here is one that really surprised me. In 1952, Gene Autry had a movie called "Blue Canadian Rockies," which Cindy Walker had a song in the movie by the same name. In 1968, The Byrds recorded their groundbreaking record, "Sweetheart of The Rodeo," and put it on their album. Here are The Byrds.
Now lets move forward to 1981, when Micky Gilley had a hit with Walker's "You Don't Know Me." This song has been recorded by artists including Willie Nelson, Michael Buble, Emmylou Harris, and Cindy Walker herself. My favorite version is by Ray Charles. He puts his own vibe in the song and it sounds amazing. Here is Ray Charles.
Cindy Walker made a magnificent impact in the world of music. She didn't limit herself to one genre as many do; she just wrote songs. Her music spanned decades and she will be treasured always. Cindy Walker passed away on March 23, 2006, just days after Willie Nelson released a tribute album to her called "You Don't Know Me: The Songs of Cindy Walker." Here is "I Don't Care," from that album, which was also a hit for Ricky Skaggs in 1982.
After her death, her family had a large, pink, granite guitar monument made for her gravestone in Mexia City Cemetery.
Thank you Ms. Walker for all of the years of devotion you had for music and songwriting. You were one in a million. 
Thanks to everyone who took the time to read this and listen to this artist's amazing work. I would like to leave you with a song done by Cindy Walker herself. This song was not written by her, but was the only top 10 hit she had as a performer. Here is "When My Blue Moon Turns to Gold Again."
Peace