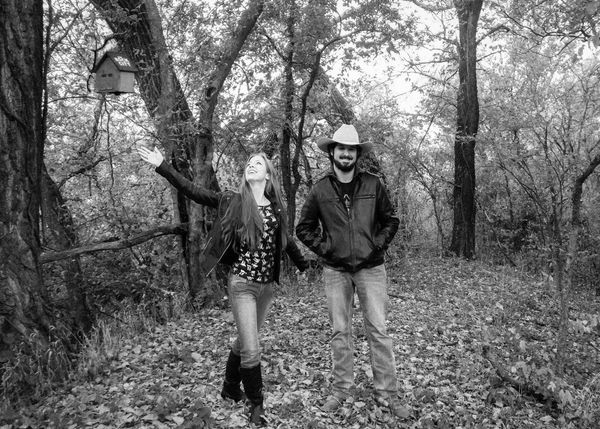 First of all, who do they think they are?
Aaron and Angi are a couple of singer/songwriters from Northern Oklahoma that are partners in music, love, and life. They live in a pecan forest along a creek bank where they write songs and wage war with the squirrels. Their music features a balance of both artists and their unique styles. They do not limit their creativity to music but, practice a variety of other arts; including leathercraft and oil painting. Their day to day life is full of critters and plants and tends to lean towards a more self sustaining lifestyle. 
Where did they come from?
Aaron and Angi got their start in Stillwater, Oklahoma where they both attended Oklahoma State University. They played on the strip and anywhere that supported live music. Their circle began to widen until they were actively touring throughout the southern US, playing over 200 dates a year. After that much time on the road, the vagabonds required recharging, so they moved northward to try their hands at homesteading. 
Who were they before that?
Aaron was born in Texas and grew up in southeastern Oklahoma, where he learned to play guitar from the elders in the tiny town of Soper. His first official job was at the local grocery store though he worked for his dad in the pecan tree business throughout his formative years.  He has found inspiration in such places as, a field technician for the department of wildlife, a table games dealer at a casino, and as a farmhand on a neighboring farm. 
Angi was born in northern Oklahoma and grew up on a horse, wandering the rolling hills of the tallgrass prairies on the family ranch. She was raised in the ways of the cowboy and performed in wild west shows throughout her childhood. Her unusual upbringing yielded a unique skill set that includes, but is not limited to, sharpshooting, trick riding, assorted knife skills, automotive repair, graphic design, sewing, barrel racing, driving a team and baking moist cakes.