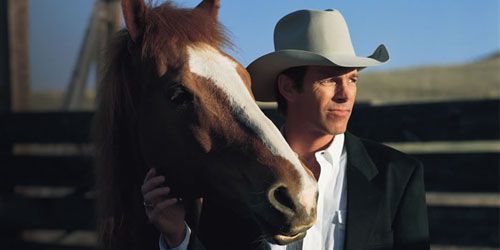 Hello again everyone!
Hope everyone is still doing well and staying safe.
This week I want to talk about a guy who was a singer, songwriter, and PRCA World Champion Bareback Rider. Chris LeDoux was an amazing talent in so many respects. He was a true cowboy in every sense of the word and a great singer/songwriter and entertainer. This man not only won the 1976 World Champion Bareback Rider title, but also went on to have a successful Country music recording and performing career. 
Chris LeDoux was born in Biloxi, Mississippi on October 2, 1948. His father was in the US Air Force, so they moved often. At an early age Chris found he loved horses and wanted to be a cowboy. He started riding  bareback horses in his teens. He was so good at bareback riding that he received a rodeo scholarship to Casper College in Casper, Wyoming where he attended for 2 years and competed in collegiate rodeo. His junior year of college at Eastern New Mexico University, he won the Intercollegiate National Bareback Riding Championship. He knew that he could very well win the world and wanted to pursue rodeo further.
Chris began competing on the national level in 1970. While driving from place to place riding broncs, he started writing songs about the life he lived. He would then go home and his parents would help him record his songs in their basement. His mother had said she would use a kitchen timer to know when to stop the tape. Chris would then take his tapes out on the road and sell them out of the back of his pickup. Over the course of his rodeo career, Chris had sold over 200,000 copies of his music. He didn't have a label backing him or any kind of marketing, he just sold his music wherever he was. Needless to say he had accumulated many fans over the course of his rodeo career. In 1976, Chris won the PRCA Bareback Championship at the National Finals Rodeo in Oklahoma City, OK and was a world champion. He continued to rodeo until 1980 when he retired and pursued music and ranching full time. 
By the late 80's, Chris was recording and playing concerts and had self-released 22 albums. At this point he still thought he was only known in rodeo circles. In 1989, he heard Garth Brooks' song "Much Too Young (To Feel This Damn Old) on the radio and Garth had the line "a worn out tape of Chris LeDoux" in the song. After this, Chris LeDoux became a household name in the Country music world and was offered a recording contract with Capitol Records subsidiary Liberty Records and recorded the album "Western Underground." His next album "Whatcha Gonna Do With A Cowboy," was certified Gold and the title track which was a duet with Garth made the top 10 on the Billboard Country Charts. This would be the only Top 10 for Chris.
Throughout the 90's Chris became known for his high energy concerts where there would be pyrotechnics and even a mechanical bull he would ride. He would run all over the stage and throw roses to the audience. The show was like Van Halen meets Roy Rogers. It was exciting to say the least.
While Chris LeDoux did become a well known name during the 90's, he had made so much music before then. Many of the songs he recorded before his recording contract, he wrote himself. This is the area of his recording career in which I would like to concentrate.
The first song for this tribute is "Take Me To The Rodeo" off of his 1996 album "Stampede." This song gives you an idea of what life was like for him as a bareback rider. He said that the songs he wrote were autobiographical. I believe this is a testament to that.
Now I would like to throw one out there that is a little different. This one is "The Cowboy and The Hippie" off of his '81 self-released album "Gold Buckle Dreams." This song is definitely one of my favorites. It goes to show that when you get right down to it, we all have things in common.
This next song is a western love song. "Riding for a Fall" was released on his first album with Capitol, "Western Underground." This song paints a really vivid portrait and has a beautiful melody.
.
Now for Chris' explanation as to why he sang his rock 'n' roll songs.
I felt that there were two songs that summed it all up.
First up is "Little Long Haired Outlaw" off of his second Capitol recording "Whatcha Gonna Do with a Cowboy."
And next is "Even Cowboys Like A Little Rock and Roll" off of his third Capitol release "Under this Old Hat."
This shows the many sides of Chris LeDoux. He was a cowboy, but loved rock 'n' roll.
Now we are going to go back a ways. "Old Jake" was one of Chris' earlier songs and was released on the "Old Cowboy Heroes" album in 1980. It is a wonderful story about an old cowboy.
Next up is "They Couldn't Understand My Cowboy Songs." This song is about Nashville and how they didn't know how to market his music long before Garth ever came into the picture. It is off of Chris' 1983 self-released album "Thirty Dollar Cowboy." 
"Photo Finish" is a very humorous narrative about trying to get to a rodeo with not much time to do so. This is off of his 1973 album "Rodeo Songs Old and New."
This song coming up is a song Chris wrote with Toby Keith about being on the road with the one you love. They both recorded it and released it separately. Chris' version was on his 2003 album "Horsepower." Here is "Rodeo Moon."
I hope this gives everyone a good look and listen to what an amazing songwriter Chris LeDoux was. For so many years he has been known primarily for his wild concerts, but his songwriting was very unique and poetic. He was a great guy and said that he tried his best to live by the golden rule. Seems like pretty sound advice. 
Chris LeDoux passed away on March 9, 2005 at the age of 56. He had an amazing life and accomplished more in his 56 years than most folks could ever dream of. Chris was inducted into the ProRodeo Hall of Fame in 2005 for bareback riding and in the "notables" category for his musical contribution to rodeo.There has also been a monument erected in his honor in Kaycee, Wyoming called the "Good Ride Cowboy" Monument.
I felt that this last song was very fitting for the last one. Here is "Western Skies" off of his "Whatcha Gonna Do With A Cowboy" album.
Thank you Chris for all of your contributions to Country music and rodeo. You are greatly missed.
Thank y'all for taking the time to stop by. Hope you enjoyed this and will continue to visit.
Peace